Published: Monday, December 14, 2015 11:18 AM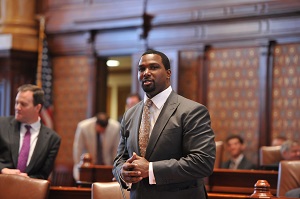 SPRINGFIELD – The Illinois Legislative Black Caucus released a report today showing how Illinois' budget impasse is disproportionally affecting communities of color. The report outlined numerous areas affecting these communities, including early childhood education, violence prevention, MAP grant funding and programs for seniors.
"This is unacceptable," said State Senator Napoleon Harris (D-Harvey). "Illinois is suffering, and our most vulnerable continue to carry the burden. Poor African-American communities have historically been marginalized and they feel the impact first hand during times of economic trouble. These communities need access to child care programs, violence prevention programs and other important programs that are the first on the chopping block."
The report shows that while African-Americans make up nearly 15 percent of the population in Illinois, 30 percent of African-Americans live in poverty. Many of the programs that are affected by the budget impasse are programs aimed to help these communities.
Illinois has been without a budget since July 1. This means state-funded community-based programs serving the developmentally disabled, child care assistance programs, senior programs and MAP grant funding is still tied up.
Category: News