Published: Sunday, August 04, 2013 12:51 PM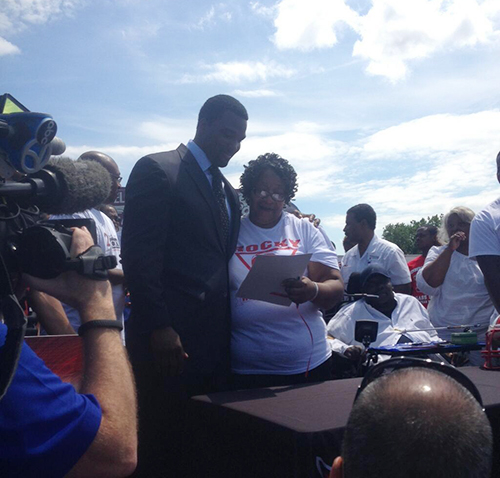 SPRINGFIELD – State Senator Napoleon Harris (D-Flossmoor) saw his first major piece of legislation sponsored as a new senator signed into law on Sunday, requiring schools to offer catastrophic insurance coverage for student athletes.
Inspired by Rasul "Rocky" Clark, Harris' Senate Bill 2178 ensures student athletes will have insurance coverage if they sustain injuries that leave them paralyzed while representing their schools in athletics. The measure was signed by the governor at Eisenhower High School in Blue Island, where Rocky went to school and played football. His mother Annette Clark was on hand for the occasion, along with other family, friends, and lawmakers who cosponsored the legislation.
"These injuries are rare, but when they happen it's devastating for young athletes and their families," Harris said. "These students' lives are dramatically changed in cases of catastrophic injuries, and they deserve access to health care coverage."
Harris, a former NFL and Northwestern University football player, knows the importance of this legislation. He sought and achieved bipartisan support in the Senate on this measure.
Under the new law, the minimum policy for a school will cover $3 million in aggregate benefits or five years of coverage, whichever comes first, for injuries resulting in medical expenses in excess of $50,000. All schools will have this insurance except for those who already require athletes to have private insurance. Before this new law, there was no requirement in Illinois that schools carry insurance for their athletes, though some do voluntarily.
The Illinois High School Association provides students with this catastrophic insurance for state tournaments. To acquire this coverage for the entire season, officials estimate the cost for schools to be less than $5 per athlete.
"Illinois student athletes and their parents have a victory today," Harris said.
Category: Press Releases