Published: Tuesday, February 02, 2016 05:03 PM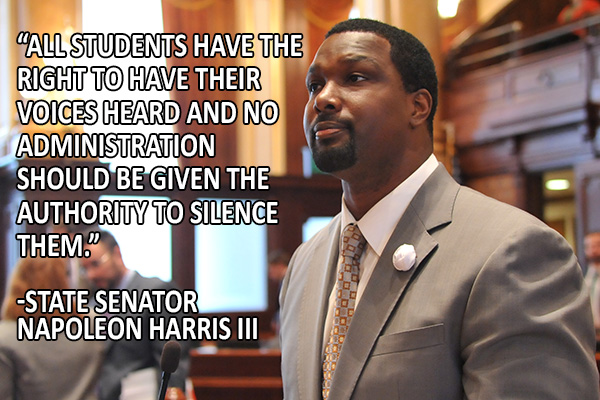 SPRINGFIELD – State Senator Napoleon Harris III (D-Harvey) introduced legislation that protects college students' freedom of speech and would prohibit colleges from revoking athletic and academic scholarships as a result of protesting.
Senate Bill 2279 came about after Republican lawmakers in Missouri filed legislation intended to punish African American football players who demanded the resignation of the head of the university after inaction against racism on campus.
"Universities should remain strongholds for progress and freedom of speech," said Harris, a former Northwestern University football player. "Students shouldn't be treated like property for earning scholarships. I want to make sure it's clear that students' rights are a high priority in Illinois."
Harris noted that many students on athletic and academic scholarships come from low-income backgrounds and depend on their scholarships as their only means to a college education.
"Legislation like what was introduced in Missouri is unconstitutional," Harris said. "All students have the right to have their voices heard and no administration should be given the authority to silence them. I want to shut this down before anyone gets any dumb ideas here."
###
Category: News