April 2014
April 11 1 - 4 pm: Joliet Junior College hosting Joliet Regional Job Fair - For details, click here.
April 22 - Unemployment Insurance Workshop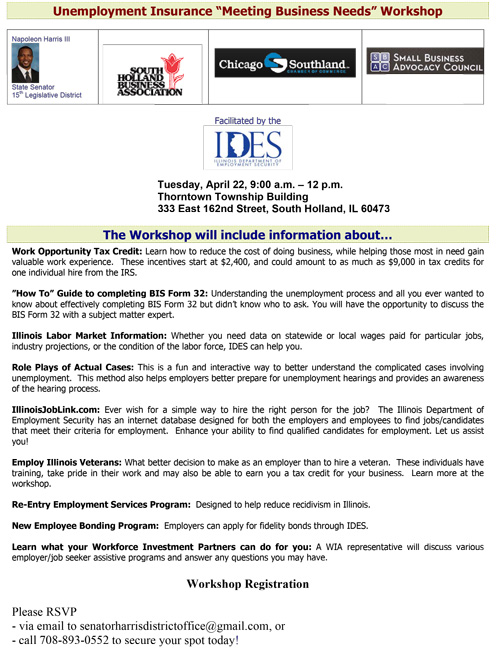 The 15th District includes all, or parts, of Beecher, Bradley, Burnham, Calumet City, Chicago, Chicago Heights, Crete, Dixmoor, Dolton, East Hazel Crest, Flossmoor, Ford Heights, Glenwood, Goodenow, Harvey, Hazel Crest, Homewood, Manteno, Markham, Midlothian, Oak Forest, Olympia Fields, Peotone, Phoenix, Posen, Sauk Village, South Chicago Heights, South Holland, Steger, Thornton and Tinley Park.
Napoleon B. Harris III serves as the state senator for Illinois' 15th District. He represents parts of both Cook and Will Counties, covering the 9th Ward of Chicago, Blue Island, Calumet City and parts of Oak Forest, Homewood, and Steger. The district also includes the cities of Dolton, Dixmoor, East Hazel Crest, Riverdale, South Holland, Harvey, Midlothian, Glenwood, Markham, Posen, Crete and Monee.
Napoleon Harris III was born Feb. 25, 1979, and grew up in Dixmoor, Illinois. Harris was an honor student and a tri-Star athlete at Thornton Township High School in Harvey. He earned a bachelor's degree in communications from Northwestern University. Later, Harris received his post-graduate certificate from Northwestern's Kellogg School of Business Management.
Public safety is one of Harris' deepest concerns. Harris fought for the creation of a violent crimes task force in Englewood in order to reduce the level of violent crime throughout the community, while studying the genesis and effects of this crime.
Because the COVID-19 had such a disproportionate impact on disadvantaged communities, Harris worked to expand telehealth services throughout Illinois. Now, appointments can be more efficient when in-person visits are not needed, and disproportionately impacted community members will have access to these services, which were not equitably provided throughout the pandemic.
Harris believes that keeping kids in school is essential to future success for our state. Expulsions and suspensions have become an all-too-easy alternative to in-school behavior rehabilitation. Senator Harris has supported legislation to reduce the number of harsh penalties that keep kids out of school and force them onto the streets.
Senator Harris is the Chair of Insurance, Vice-Chair of Commerce and serves on the following committees and subcommittees: Energy and Public Utilities, Executive, Health, Pensions, Appropriations, Appropriations-Government Infrastructure, Appropriations-Revenue and Finance, Appropriations-Personnel and Procurement, , Subcommittee on Public Health; Redistricting- South Cook County, Executive-Cannabis, and Executive-Tobacco.
Harris is a former football player. He played college football at Northwestern and was drafted by the Oakland Raiders. He was the Raiders' starting middle linebacker in Super Bowl XXXVII. Harris also played for the Minnesota Vikings and Kansas City Chiefs for a total of seven NFL seasons. In 2021, he also created a law that allows Illinois student-athletes to earn compensation for the use of their names, images, or likenesses on products like clothing and video games.
Senator Harris married Nicole Bunton in 2006. They have two sons—Napoleon Harris IV and Noah – and a daughter named Nahla.