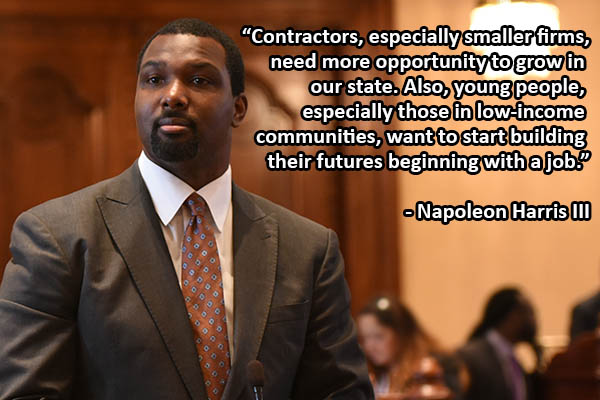 SPRINGFIELD- Small businesses may soon have better opportunities at acquiring and maintaining contracts with the Illinois Department of Transportation, and more young people could soon find employment thanks to two proposals recently approved in committee.
"Both of these measures respond to the concerns of a number of people throughout the state," said State Senator Napoleon Harris (D-Harvey). "Contractors, especially smaller firms, need more opportunity to grow in our state. Also, young people, especially those in low-income communities, want to start building their futures beginning with a job."
It can be difficult for small contracting firms to take on projects with the state due to payment delays. House Bill 4477 requires IDOT to make advanced payments to contractors and subcontractors for preliminary spending purposes, such as purchasing tools and machinery for a project.
Youth unemployment creates a barrier for young people trying to establish their economic futures. House Bill 5668 establishes the Youth Unemployment Taskforce, which seeks to find ways to solve our statewide youth unemployment crises and improve employment for young people of color.
Both measures will now move to the full Senate for consideration.
###