Black Wall Street legislation passes Senate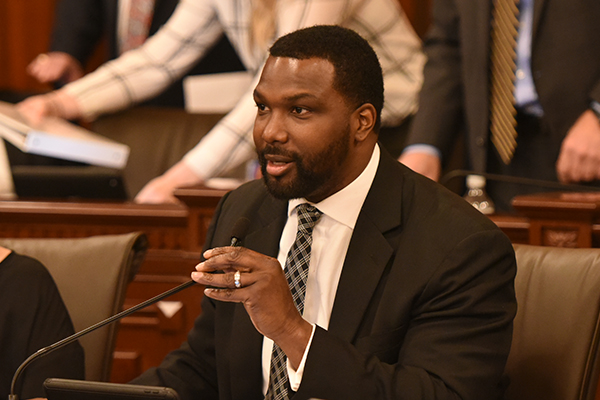 SPRINGFIELD – State Senator Napoleon Harris, III (D-Harvey) continues to advocate for increased support for Black-owned businesses throughout Illinois, passing a new economic stimulus program out of the Senate.
"Our Black businesses will not last if we do not elevate them and provide the resources they need to compete in Illinois," Harris said. "I have seen firsthand the struggles these Black business owners face to succeed – struggles that could have been prevented if they had the same support as other businesses."
House Bill 1960 would require the Illinois Department of Commerce and Economic Opportunity to create and administer the Black Wall Street Program to stimulate Black businesses' growth and development in underserved communities throughout Illinois.
Under the legislation, DCEO would provide loans and financial assistance to communities that established themselves as Black Wall Street Districts.
Municipalities with a 70% African American population would be eligible to apply for loans to distribute to local Black-owned businesses each year. However, a city applying for a loan would have to pass an ordinance declaring its intent to create a Black Wall Street Business District.
DCEO would also create an African American contractor and engineer's database and a Black Wall Street Investment Hub.
The hub would assist African American-owned business entities and people in Black Wall Street business districts. The hub's services would include helping with construction costs, construction plans, and other services.
"It's vital for businesses in traditionally disadvantaged communities to have a resource where they can go and get their questions answered," Harris said. "The hub is critical to helping these Black residents becoming entrepreneurs and growing their businesses."
House Bill 1960 passed the Senate floor and now goes to the governor.