Published: Wednesday, November 16, 2016 03:45 PM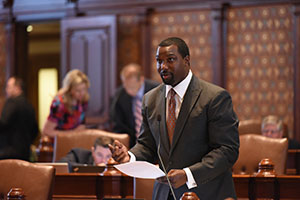 The Illinois Senate voted Tuesday to override Gov. Bruce Rauner's veto of legislation (SB 250) that would bring automatic voter registration to Illinois.

The legislation would allow the Illinois Secretary of State's office and similar state agencies to submit eligible voters' information to the State Board of Elections when they visit their facilities for services.
State Senator Napoleon Harris III (D-Harvey), who is a sponsor of the legislation, said he was disappointed to see the governor veto the legislation, but noted that the power of checks and balances prevailed today.
"I stand in strong support of this legislation because we live in a democracy, and everyone deserves to have their voice heard," Harris said. "This legislation will create an easier, cost-effective registration process and promote participation in our democracy. It is my hope that my colleagues in the House will share the same sentiment."
The measure passed through the Senate, and now goes to the House for consideration.
Category: News