Published: Tuesday, April 04, 2017 10:40 AM
Read below or click here to view today's article from FarmWeekNow.com on Senator Harris hosting farmers from Moultrie County in his district.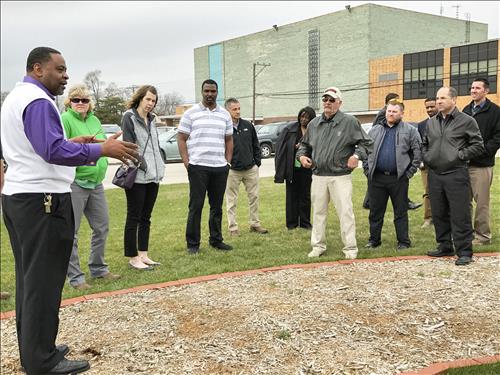 New Illinois Senate Agriculture and Conservation Committee Chairman Sen. Napoleon Harris, D-Harvey, recently hosted about a dozen of his "adopted" farmers from Moultrie County for a tour of his south suburban legislative district. During the tour, Harris focused on some urban agricultural initiatives occurring in his district.
The visitors met the senator at his district office and received an overview of Harris' district. The Moultrie County Farm Bureau group presented the senator with a information about the county, Farm Bureau hat, Ag Mags for his children and other items.
At their first tour stop in Dolton, the visitors met Mayor Riley Rogers and his staff and toured the Village Hall, including a new media center that allows Dolton residents to stream live video of village board meetings. A local public affairs program for village residents is also produced in the media center.
The mayor discussed his interests in bringing more urban agriculture and community garden programs to his village as well as other economic revitalization efforts in Dolton.
The farmers discussed the mayor's interests to provide Dolton area students with more agricultural education opportunities, so efforts will be made to bring more Ag in the Classroom programing to Dolton schools.
Next, the group visited Thornton Township High School in Harvey. School officials discussed a community garden recently established at the school and plans to implement an urban agriculture program there.
School officials talked about the benefits of making sure urban students understand how their food is grown as well as giving students an opportunity to learn how to grow their own food. County Farm Bureau leaders suggested the school may want to establish an FFA chapter and offered to connect the school with the state FFA organization.
Food was next on the agenda when the group visited American Kitchen Delights, a commercial food manufacturer of custom and specialized products. The products include everything from pizzas to sandwiches and pastas to breakfast items made for different customers, including several airlines and well-known brands. The farmers toured the facility and saw pizzas and other foods being made. Each visitor received a frozen deep-dish pizza.
During lunch at one of the senator's restaurants, Beggars Pizza in Harvey, Harris asked the farmers about numerous agricultural issues, including the Livestock Management Facilities Act, genetically modified organisms and animal care.
He looks forward to bringing his family to Moultrie County for a farm tour in the summer and fall. As Senate Agriculture and Conservation Committee chairperson, Harris said he would like to tour different farms and agri-businesses across Illinois.
The Moultrie County farmers thoroughly enjoyed the tour and their time with the senator. They learned a great deal about his district and appreciated the opportunity to talk with him about their farms and legislative concerns. They look forward to welcoming him to Moultrie County and being a key resource for him when important legislative issues arise in Springfield.
Christina Nourie serves as Illinois Farm Bureau northeast legislative coordinator.
Category: News