Published: Wednesday, February 21, 2018 02:15 PM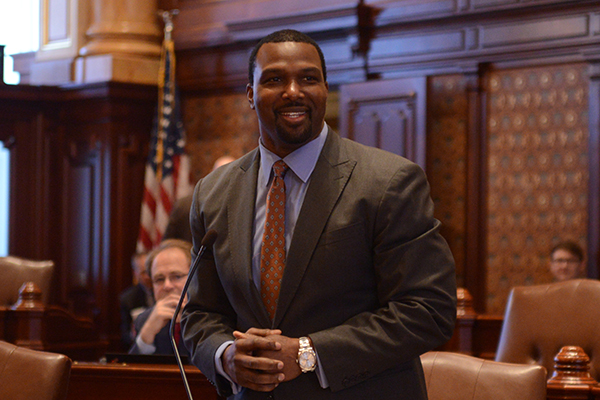 SPRINGFIELD – Legislation introduced this week in the Illinois Senate and House will begin the discussion on why some black suburban communities are paying too much for drinking water as compared to the City of Chicago and some wealthier non-black towns.

Companion bills (SB2874 and HB4744) were introduced by Stat Senator Napoleon Harris (D-Harvey), who represents Harvey and Ford Heights, and Rep. LaShawn Ford (D-Chicago), who represents several suburban towns. Harvey, Ford Heights and Maywood do not have direct access to Lake Michigan water and get their water from other communities. Their residents pay some of the highest rates in Cook County, Harris and Ford said.

Ford Heights Mayor Annie Coulter worked with the lawmakers on the bills.

"These proposals will begin the discussion of making Cook County's drinking water rates more equitable," Senator Harris said. "It's not fair that the place that you are born – whether it's Harvey, Ford Heights, Highland Park or Chicago – determines what your family pays for water. It should be a right of all people to have equal, reasonably-priced access to drinking water."


Harvey gets its water from Chicago. Ford Heights gets its water from Hammond and Chicago Heights. The Chicago Tribune wrote a major investigative story on Oct. 25 which found that Ford Heights residents pay nearly six times more for the same amount of water than residents of the wealthy, predominantly white town of Highland Park. Ford Heights taxpayers pay four times more for water than people living in Chicago. Similar problems exist in Harvey and Maywood, the newspaper said.

Maywood's high water rates are a result of significant water loss and "debt services" to neighboring Melrose Park, which provides Lake Michigan water to Maywood, Village Manager Willie Norfleet Jr. said. Maywood charges the sixth-highest rate among towns receiving Lake Michigan water in the Chicago region.

"I look forward to working with Senator Harris and local officials to tackle why there is such a wide disparity of rates between Chicago, some wealthier suburbs and predominantly African-American towns. It's clear that the situation is unequal, unjust, unfair and I believe a civil rights issue," Ford said.

The legislation provides that beginning Jan. 1, 2019, a supplying municipality in Cook County shall not charge another municipality in Cook County more than the actual cost of providing water to the municipality. The bill requires that a municipality that provides another town drinking water in Cook County shall post on its website and provide to the municipality to which it supplies water the actual cost of providing water.
The legislation also provides that the Environmental Protection Agency shall monitor all municipalities that provide water in Cook County to make sure they are not charging more than the actual cost of providing water. The legislation also creates the Cook County Water Infrastructure Fund that could make grants to municipalities to fund infrastructure improvements to facilitate water supplies from Lake Michigan for residents of Cook County.
Category: News