Published: Friday, March 03, 2017 05:04 PM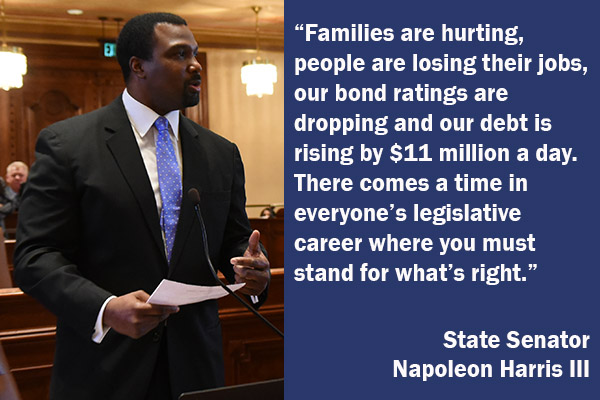 SPRINGFIELD - State Senator Napoleon Harris (D-Harvey) expressed his frustration with shortcomings in approving a budget this week. After interference from the governor the Senate was unable to vote on proposals that combined reforms with a spending plan for the rest of FY 17. Harris released the following statement:
"I'm disappointed in the lack of support from my republican colleagues for votes that could have been taken this week. Families are hurting, people are losing their jobs, our bond ratings are dropping and our debt is rising by $11 million a day.
There comes a time in everyone's legislative career where you must stand for what's right. I would hope that my colleagues would come together to do what's right for the people of Illinois.
If not this budget, then what budget? If not now, then when? Our constituents need legislators who want to govern."
Category: News