Published: Thursday, March 09, 2017 03:49 PM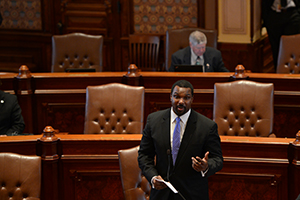 After two years of holding the Illinois budget hostage for political gain, Gov. Bruce Rauner now is faced with cutting an astounding $5 billion worth of state programs and services to balance the budget he presented to taxpayers last month.
"We live in the real world where we have to be realistic. We need to think about contingency plans and moving forward," said Senator Napoleon Harris III, a Harvey Democrat and chairman of the Senate's Agriculture Committee. "From day one I have said we must work together to fix these issues. It's going to take tough decisions by all to get this done."
Gov. Rauner has proposed a budget that is unbalanced by nearly $5 billion – a figure that was reinforced this week when the General Assembly's Commission on Government Forecasting and Accounting released an analysis that suggests the state's revenues are $329 million lower than the governor's February budget estimate, pushing his budget proposal further into the red.
Yet during a series of Senate committee hearing this week, agency directors under the Rauner administration were unable or unwilling to identify cuts to personnel or programs that could enable the governor to bridge the gap. That includes representatives of the Illinois Department of Natural of Resources and the Illinois Department of Agriculture, both of whom appeared before the Senate Agriculture Committee.
"We posed a simple question to these agencies: Where in your agency's budget can you cut to help fill this $5 billion hole in the governor's proposed statewide budget?" Harris said. "They were stonewalling, or they've never given it a thought. Either way, it's a problem for the people of Illinois who deserve answers."
Category: News