Published: Thursday, July 02, 2015 08:40 AM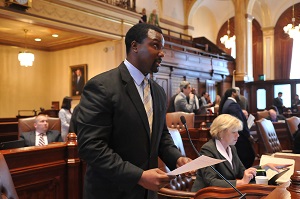 SPRINGFIELD, IL – In regards to the Illinois State Senate passing appropriations to maintain funding to social services that provides critical services for the most vulnerable populations, Senator Napoleon Harris III (D-Flossmoor) said the following:
"Today we are taking action to protect senior citizens, those with developmental disabilities and other vulnerable populations. These services are critical to helping our communities. This will allow essential services to stay in place for another month while we continue to work on a budget for 2016. Now is the time to stand up for the people in our communities. We must work together and make sure our communities are stable and people have access to the core services they need.
This is a step in the right direction to solve our funding issues. However, hopefully in the upcoming weeks the governor can sit with leaders on both side of the isle and come up with a long-term solution."
Category: Press Releases