Published: Tuesday, May 14, 2013 05:40 PM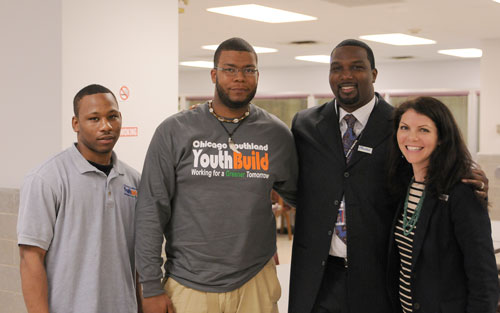 The Illinois YouthBuild Coalition (IYBC) is a statewide, non-profit program that trains young adults and juveniles for careers in carpentry and construction. IYBC programs are located in Rockford, Bloomington, East St. Louis, Waukegan, Aurora, Lake County, Rock Island, Mt. Vernon, Springfield, Peoria, Cairo, Chicago, Godfrey and Harvey.
Approximately 75 members from these programs met in the Capitol today to display 'Aldo Leopold' benches each team constructed to showcase job skills training. Members of the General Assembly will then vote on the best exhibit and award prizes to the winning teams.
With Sen. Harris: Julian Washington, Emmanuel Jeudy, and OAI Chicago Southland Director Mollie Dowling.
Category: Latest