Published: Wednesday, February 08, 2023 08:46 AM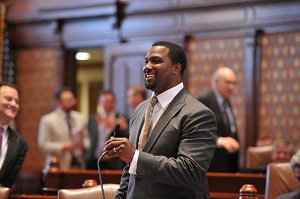 HARVEY – The Illinois EPA announced more than $125,000 is heading to Dolton, Markham, and Posen to assist the cities in identifying service lines that may contain lead.
"Lead levels have been a pervasive issue in our communities and its risk impends upon the wellbeing of children and families," said Harris (D-Harvey). "Investing in our service lines will enhance drinking water and provide a better quality of life for many."
Senator Harris voted for the legislation creating the Lead Service Line Replacement Notification Act in 2021. The Lead Service Line Replacement Notification Act establishes timelines and requirements for the removal and replacement of all lead service lines in Illinois and creates a low-income water assistance program to help fund financial assistance and water projects that include lead pipe replacement.
Illinois has more lead service lines than any other state in the nation, with an estimated 730,000 to 1.4 million lead service lines in the ground. There is no safe level of exposure to lead.
"This funding will provide many communities with the necessary funding to develop a complete inventory identifying the types of water lines that exist in their drinking water supplies," said Illinois EPA Director John Kim.
To see a full list of Lead Service Line Inventory (LSLI) Grants, click here.
Category: News