Published: Tuesday, April 08, 2014 01:59 PM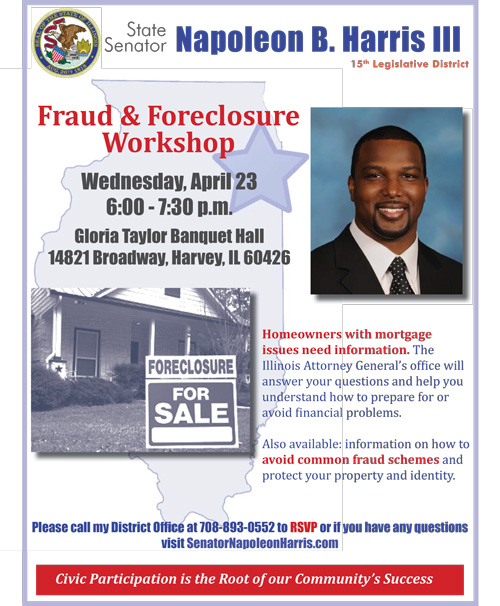 Financial scams are a common problem today. One of the most notorious threats can be predatory lenders and servicers. Learning how to avoid financial predators and pitfalls is your best defense against financial fraud, and learning how to navigate the foreclosure process can be crucial to family financial security.
I would like to invite you to join me for my Fraud and Foreclosure Workshop on April 23 at the Gloria Taylor Banquet Hall located at 14821 Broadway Ave in Harvey. Let's take this time to learn how to better protect our homes and safely navigate the foreclosure process.
A representative from the attorney general's office and I will be hosting this event from 6 to 7:30 p.m. April 23 providing presentations on these two critical issues affecting Americans today.
I expect this event to be a valuable opportunity for engaged citizens to learn about innovative ways to safeguard themselves from threats to their finances and homes. And if you are going through a foreclosure right now, we will work with you on the best ways to get through the process.
Space is limited, and we want to make sure everyone seeking information or help has an opportunity to receive it. To RSVP, contact my district office at 708-893-0552.
Category: Latest